B7598 polyester kabeltag van Brady
Duurzame kabelidentificatie voor buitengebruik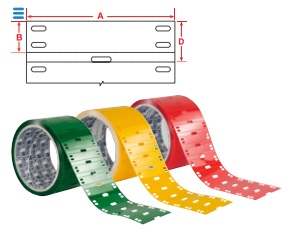 De B-7598 kabelidentificatietag uit polyester werd ontwikkeld voor de buitenidentificatie van kabels. Het materiaal blijft bij buitengebruik tot 10 jaar lang leesbaar en is in 7 kleuren verkrijgbaar.
Bijzonder duurzaam
■ Levensduur tot 10 jaar bij buitengebruik
■ Krasvast
■ Scheurbestendig
■ Bestand tegen vuil
■ UV-bestendig
■ Hittebestendig
■ Koudebestendig
■ Vochtbestendig
■ Bestand tegen chemicaliën
Toepassingen
De B-7598 polyester tag is een tag voor het identificeren van kabels
die aan extreme omstandigheden worden blootgesteld. Hij moet met
kabelbinders aan de kabel worden vastgemaakt. Enkele algemene
toepassingen voor dit kabeltagmateriaal zijn:
■ identificatie van meeraderige kabels
■ identificatie van kabels in gsm-masten
■ identificatie van data- en telecomkabels
■ kabelidentificatie die uitermate bestendig moet zijn
Ter plaatse printen
De B-7598 polyester tag kan in uw bedrijf of op locatie bedrukt worden.
Zo kunnen kabels op afgelegen locaties snel worden geïdentificeerd.
De B-7598 kan bedrukt worden met:
■ Brady IP™-printer
■ BP PR+-printer

Voor samples of een prijsopgave ga naar GSH Identification Solutions.