RFID Integrated Air Label
The self-adhesive RFID Integrated Air Labels provide a robust, easy to use and reliable solution for durable data management and non-metal component history visibility. They are ultra-thin and can easily be applied to non-metal components, seat covers, oxygen masks, life vests or medical supplies. With an excellent read range of up to 8 metres, RFID Air Labels can provide easy to consult maintenance histories that travel along with every non-metal aircraft component.
Create digital birth records
 Print and program the RFID integrated label on-site in less than 10 seconds
 Compliant with the latest ATA Spec 2000
 Compliant, customisable and user friendly software
Ease of use
 Easily attach to flat and curved non-metal components
 Ultra-light weight (<1g), ultra-thin (0.23mm)
 3 sizes available in low memory
 Up to 8 meter read range
Complete history attached to every component
 Easily gain insight in component origin and history
 Update component history with the RFID scanner
 Rely on extreme label durability for cradle to grave traceability
The RFID Integrated Air Label can be delivered according to specifications, or can be supplied as a component of Brady's SmartID Solution, which includes a high quality RFID print and program system and ATA Spec 2000 compliant software to simplify and automate traceability processes in aerospace industries.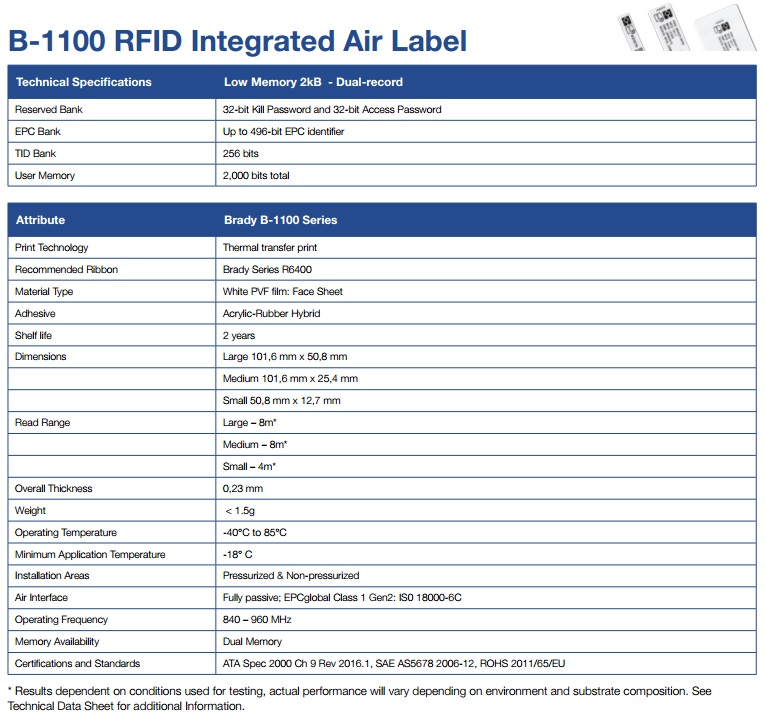 For more information contact GSH Identification Solutions.